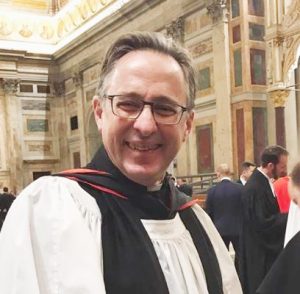 The Bishop of Barking and the Archdeacon of West Ham are delighted to announce that the next Rector of St Peter and St Paul's, Chingford, with All Saints', Chingford, is to be the Reverend Dr Justin Lewis-Anthony.
Justin was until recently the Deputy Director of the Anglican Centre in Rome, the body which supports the work of the Archbishop of Canterbury's personal representative to the Holy Father. Before that he has worked in Alexandria, Virginia (as Dean of Students at a theological college), Canterbury (as Rector of a parish in the city), Oxford (as precentor of Christ Church Cathedral), and Cirencester (as curate and team vicar in the parish).
He was born in Singapore, and educated there, in Germany and in North Yorkshire. He studied History at the London School of Economics, Theology at the University of Oxford, and was awarded a PhD from the University of Kent. He has written three books as a sole author and contributed to others on issues of church life, ministry, and culture. Because he has four (now grown up) children, he didn't have time for hobbies, unless you count watching films. He supports Wales for Rugby, England for cricket, and, heaven help him, Middlesbrough for football.
We look forward to welcoming Justin to Chingford once all the legal preliminaries have been completed, although the exact dates have yet to be finalised.